1184 sq. ft.

,

ideal for


6/7 people

This house of contemporary style will allure you by his cordial and convivial environment. The part with living with its chimney and its parquet floor invites to the relaxation with behind plane the headlight of Echmuhl and the beach of white sands. Take a step, and since the terrace or in the shade of the poplar benefit from the garden and the panorama.



GROUND FLOOR :




The part with living (35 m

2

includes / understands:
- an integrated kitchen, with a dishwasher, microwaves, electric coffeemaker, saucepan, mixor, toaster, etc....
- a corner show, with chimney, settees leather, television. This part opens directly on the large terrace and the garden side sea.


1 room with 1 bed of 1.60 m


1 water room


1 WC independent.



STAGE :




1 room with 1 bed of 1,60 m


1 room with 1 bed of 0.90m


1 room with 2 beds of 0.90m


1 bathroom with WC, parquet floor teak.


Reads baby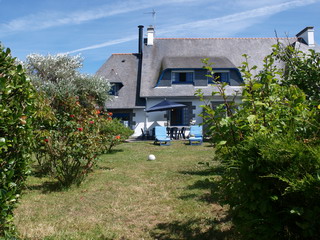 Click on the photograph to visit !



The part with living and three of the rooms saw on sea with, in background, the Headlight of Eckmuhl. Parquet floor in oak in all the parts.



OUTSIDE :


Each dwelling lays out independently of a carpark in the property, a garden with show of garden, parasol, fixed barbecue, and of a corner relaxation with deckchairs and mattress. The hot shower at the bottom of the garden awaits the bathers with the return of the beach.
Possibility of access to the cellar, on request, to arrange the bicycles, boards with veil...